Prepare for the Storm
By Lori
WE were thankful we had chosen to drive the big Forerunner, left for us. I didn't think our poor little Daewoo would stand all the rain and the overflow from the ditches.
The rain pelted us and increased our driving time but we knew the Lord intended great things for this day, Saturday, August 1, 2009.
Preparate Para la Tormenta (Prepare for the Storm) was held in Mt. Pleasant , TX and drew Catholic Latino Youth from Texas, Arkansas and Oklahoma to worship the Lord. We were excited to see if Catholic kids were on fire for Jesus.
The driving rain didn't keep the 800 kids and 200 adults away. Many were lined up an hour early, waiting to get in. At our table we were able to give out hundreds of DVDs about Summer of Service Training for youth 13-18 and Discipleship Training School information. The kids were hungry for more of Jesus.
The actual storm that day came in three waves. It reminded us of the Father, Son and Holy Spirit, just as the kids had prayed for. Prearate para la Tormenta is part of the National Charismatic Youth Renewal for the Catholic Church. The Latino kids are lively and love Jesus with all their heart. What will happen in the Church if our Anglo kids catch the same zeal for the Lord? We heard great preaching and worship that day and the main speaker, David Bisono from New York, did a great job inspiring the kids to be proud to represent Jesus.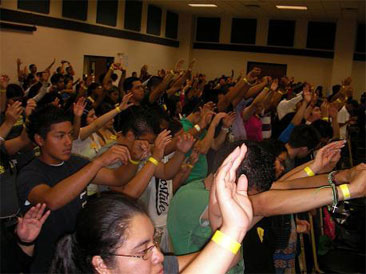 That Saturday was serious stuff. These young people weren't there to play ping-pong games and be entertained. They were hungry for Jesus. It was encouraging to see young seminarians there, preparing to serve the Church as priests.
One of my favorite moments came during Adoration. As the monstrance came around, a lady collapsed while worshipping. Then she began to wail. I had stepped out for a moment and found a very worried young cop standing outside the entrance.
He asked about the woman who was wailing.
"Shouldn't I call an ambulance for her?"
The janitor tried in broken English to tell the cop it was okay.
"Espiritu Santo, you know, Holy Spirit?"
I patted the cop's arm and said, "You really should go in there and get a dose of Jesus yourself!" Later a group of young women came to our table very excited. "You're the lady! You're the one."
Then someone grabbed a young petite woman and drug her over to us.
"Here she is. This is your lady!" Angie was dressed like a professional. A young lady, carrying a clipboard and looking like the accountant that she had been for the event. She was beautiful and radiated the love of Jesus.
This beautiful little Angie grabbed and hugged me like a long lost friend.
"I've read your book!" Her priest had given her a copy of Is That Really You, God? She said the book was speaking to her. Angie now wants to come to a Discipleship Training School.

Praise God! He works! He does not sleep. He doesn't slumber. He still moves. Pray for us. We cannot accomplish anything but God can accomplish everything. We just get to stand in awe.